The best P2P credit platforms [comparison 2020]
Bonus: Receive Bonus, if you invest with this links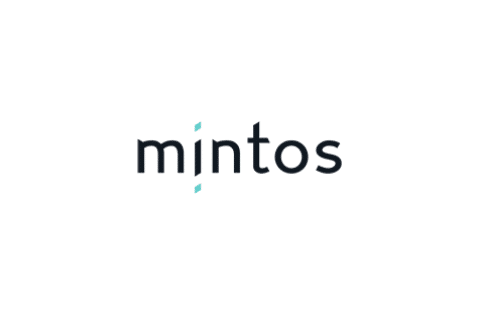 With us you will receive 0.5% of your investment amount with Mintos as a bonus credited. Use this unique chance here with us, because the bonus is not available for long.
With us you will receive 5 € credited at Bondora, if you register for free.
You will get 0.5% of your investment credited if you register here for free.
P2P – Explained in less than two minutes
FAQ – Frequently asked questions on P2P loans and P2P platforms
What are P2P loans?
Many investors are increasingly asking themselves what P2P loans are actually about. One speaks of loans that are granted to private individuals. Both parties are private in nature and operate via the respective P2P platform. In contrast to conventional loans, banks and credit institutions have no say in such transactions. This distinguishes P2P loans enormously, because the money lending is done exclusively by private persons. As in many areas of the Internet, the digital change has brought about a new area. P2P loans have positive aspects for borrowers and lenders and have been enormously popular for years.
How does P2P work?
The principle of P2P loans is basically relatively simple. The borrower registers on a platform, goes through a credit check and can then submit a credit application in the form of a project online. The other party can be you and you look at the different projects. Once you have found a suitable loan, you get in and can benefit from lucrative interest rates. Many people now wonder why the P2P platforms can offer such high interest rates. Well, the question is relatively easy to answer. The bank and with it the expensive administration fees are omitted and therefore these conditions can be offered.
What are the advantages of P2P loans?
Now in the first step, it is first of all necessary to differentiate the advantages between lenders and borrowers. Because both borrowers and lenders have enormous advantages with P2P loans.
Advantages for borrowers
P2P loans have the advantage for private individuals to get a loan Many people are self-employed nowadays, for example, and are rejected by banks. The P2P platforms act as intermediaries and enable private users to obtain a loan nevertheless. These are the advantages for borrowers.
Advantages for lenders
Lenders move into the role of investors and receive lucrative returns via the P2P platforms. Accordingly, both parties benefit from P2P lending.
What is better – P2P loans or ETF's?
These two forms of investment cannot be directly compared with each other. P2P loans have a higher risk than ETF's, but also a higher return. With ETF's you always invest in stock indices. With P2P investments you lend money to private individuals.
Difference between P2P and crowdfunding?
Crowdfunding is often equated with P2P loans, but this is completely wrong. First of all, it's not crowdfunding, what you do as an investor, it's crowdlending. You lend money to companies who want to invest or often start-ups. These companies get money from several private investors and then pay interest. In P2P, private individuals lend money to private individuals. The P2P market is much bigger than the crowdlending market and there are top platforms, as shown in the comparison.
Generate passive income with P2P? 
This question is asked very often. Yes, it is possible to build up passive income with P2P credits. You get interest on the money you have been tempted to spend and thus you are able to add money passively. But to live on it, you would have to invest a very high amount of money, which would be highly speculative.
All compared products in detail
P2P loans have become increasingly popular in recent years. You want to take out a P2P loan or invest in it? Great, but there are still some criteria for both parties to consider. Which provider offers the best conditions? Which platforms know how to convince? To make this decision easier for you, we have analysed five different providers for you.
Here you can find a detailed report on Mintos (in German language)
Mintos – Information on the platform
The P2P credit provider Mintos is based in Latvia and is one of the younger providers. What is striking about the platform is the fact that a large number of loans are available and you as an investor are therefore spoilt for choice. All in all we have determined in our test that more than 10000 credits are available. An important aspect of Mintos is that you do not pay any fees for trading on the primary market. Only via the secondary markets Mintos charges a fee. The Latvian P2P platform also offers Auto-Invest and Invest & Access in addition to manual investment. The latter is very suitable for beginners.
Update from 07.02.20:
Mintos has a new super clear investment dashboard and currently offers more loans in Auto-Invest than ever before. My return with Auto-Invest is currently over 15% and with Invest & Access 9.5%. So it continues to rise and the P2P loan provider is growing and growing!
>> Please have a look at our detailed article on Mintos Invest & Access (German)
The advantages of Mintos
Mintos convinces with innovative features like the Auto-Invest tool and offers you as a potential investor a variety of positive aspects. The following advantages speak for Mintos:
The minimum deposit is lower than the competitors and is attractive at 10 €.
The number of loans is significantly higher
As an investor you can invest in several different countries
The situation is similar for loan types, where you can invest in private, business or other forms of credit
In principle, there are no fees for Mintos; the platform only charges a fee for trading on the secondary markets
Daily access to credit balances through Mintos Invest & Access
The innovative operation of the platform is a further plus point
The registration on Mintos is simple and done with a few clicks
A buy-back guarantee is possible for a large number of loans. This is valid for 60 days. If the borrower defaults on the loan, the invested capital including interest is returned to your account.
Above all, the Auto-Invest tool is innovative. Here is one of the biggest advantages over the competitors
Mintos convinces with fast money transfers
The disadvantages of Mintos
The disadvantages of Mintos are limited and can be quickly explained with two points:
Losses can be set off against profits
Mintos is not a German company, but comes from Latvia and has its headquarters there
Helpful videos for Mintos
Here are the best video tips for Mintos:
Mintos Invest & Access vs. Bondora Go & Grow
Mintos: 1 year test and review
Bondora – Information on the platform
The business activity of Bondora started in 2009 and since then the portal has become one of the leading providers in the field of P2P loans. The company has a proper license from the Estonian Financial Supervision Authority and is therefore a secure provider. Bondora has enjoyed great popularity in recent years, which is mainly due to its uncomplicated site and workflow. With 
Bondora Go and Grow,
Bondora has created a super product that is perfect for beginners and passive investors.  
The advantages of Bondora
When you choose Bondora, you do nothing wrong. In the following you will find a short list of the advantages of the platform:
Yields of over 15 % per year are possible with Bondora
Bondora offers you the practical Autobuyer
There are three levels of risk
You can invest your capital more widely
Bondora Go & Grow as "call money alternative" with daily available investment and 6.5% interest
The website is altogether innovative, user-friendly and convinces with a pleasant handling
The minimum deposit is unbeatable and starts at 5 €
A secondary market is offered
Compared to many providers, Bondora has the advantage of increased transparency
The disadvantages of Bondora
No supplier in this industry can only offer advantages. Disadvantages are as much a part of P2P loans as defaults. In the following we have listed the weaknesses of the platform in detail:
At Bondora there is no buy-back guarantee, but there is Bondora Go & Grow, where you can have your investment paid out daily.
Helpful videos for Bondora
Here are the best video tips for Bondora.
Bondora explained: Go & Grow versus Portfolio Manager (Pro)
Iuvo Group – Information on the platform
The Iuvo Group is not to be missed out on the topic of best P2P loans. This is a P2P credit platform from Estonia. The company started in the second half of 2016 and since its launch, the platform has succeeded in brokering over 55 million euros. A quality feature of Iuvo is the fast registration and uncomplicated operation.
The advantages of the Iuvo Group
Below you will find a detailed list of the advantages of Iuvo:
The minimum deposit of 10 € is low
The registration or opening of an account is done in a few minutes and is completely uncomplicated
All investments have a buy-back guarantee in case of late payment
Investments in several currencies are possible
A secondary market is available
The disadvantages of the Iuvo Group
To speak of disadvantages is wrong with Iuvo, because there is only one. But of course we don't want to hide it from you:
A fee of one percent is charged on the secondary market
Aktuelle Stellungnahme von Iuvo Group zur teilweise schlechten Meinung über P2P Kredite (Mail vom 07.02.20)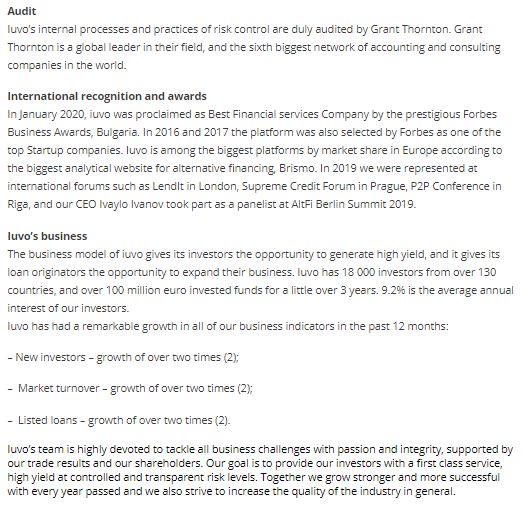 Helpful videos for Iuvo Group
Here are the best video tips for Iuvo Group.
[/et_pb_column]
Estateguru – Information on the platform
Estateguru 
was founded in Estonia at the end of 2014. The objective of Estateguru is to do business with companies and not with private persons. That is why this P2P credit provider is very different from the other P2P providers. Companies that need a loan for a real estate project in Estonia, Latvia or Lithuania can have their property financed by private investors through Estateguru. Since Estateguru only invests in real estate projects, the minimum investment amount for a loan is slightly higher. You must invest at least 50€ per loan. However, this minimum investment amount is rather low in this industry. So it is much easier to build a broadly diversified portfolio. You can reduce your default risk by investing e.g. 500€ in 10 real estate projects. Since these are real estate projects, the return is very high. On average the return is about 12 percent. Nevertheless, you should invest in more than 10 real estate projects to minimize your risk even further. Estateguru is perfect for investors who want to make a little more investment.
[/et_pb_row]
The advantages of Estateguru
As an investor at Estateguru you benefit from a number of advantages, which we have listed below:
Market leader in real estate loans
One of the most important advantages of Estateguru is the credit scoring. Every borrower is thoroughly checked by Estateguru. A minimum of 25% equity capital is required from the borrower.
All loans are secured by mortgages
The disadvantages of Estateguru
Just like with Mintos, Bondora and Co. we would like to tell you of course not only the strengths of Estateguru. Around the topic of P2P credits it is important to analyze the weaknesses of a platform. Estateguru has the following disadvantages compared to other P2P credit providers:
The minimum deposit of 50 € is relatively high
Investments are sometimes secured by subordinated collateral
Tied to the credit agreement for the entire duration
Helpful videos for Estateguru
Here are the best video tips for Estateguru.
[/et_pb_section]
Viainvest – Information on the platform
Viainvest is a Latvian platform active in P2P lending. Viainvest is one of the youngest providers of leading P2P loans and saw the light in 2016. Since then, the company has very quickly managed to finance more than five million euros in invested loans. Viainvest is a subsidiary of VIA SMS Group and has an average interest rate of over 10%. In contrast to other intermediaries, Viainvest is by far not a common P2P portal. In the first step, borrowers get the money from Viainvest through lenders that are located within the VIA SMS Group. As an investor you have the possibility to buy shares on the platform. The business model is therefore different.
The advantages of Viainvest
In the following we would like to talk about the advantages of Viainvest. We have listed these in keywords:
The borrowers are analysed in detail by the platform and the lenders, only then are loans granted. When you invest, the loans are already in circulation
An Autoinvest tool is also available at Viainvest
If loans are in default of payment, you receive the value back through the buy-back guarantee
The return opportunities are extremely attractive
The disadvantages of Viainvest
Just like with the other portals, we would like to show you the disadvantages:
There is no secondary market at Viainvest
The lending process is not direct
An investment is not freely selectable, but can only be placed in defined countries
Other strong P2P platforms not included in the test
Just click on the logo of the respective P2P platform to learn more and get a bonus!
Average yield of the individual P2P platforms
Just click on the bar of each P2P platform to learn more and get a bonus!
BULKESTATE

15,32%

15,32%

IOVU GROUP

15%

15%

MINTOS

12,11%

12,11%

ESTATEGURU

12,03%

12,03%

ROBOCASH

12%

12%

FASTINVEST

11,62%

11,62%

PEERBERRY

11,53%

11,53%

VIAINVEST

11%

11%

BONDORA

10,5%

10,5%

AUXMONEY

5,0%

5,0%